Ms. M and I made this hat together. Together in that she chose the fabric and embellishments and I toned down her embellishments and sewed the hat together. You won't know it from the photo above – but she is really really pleased with it. That's just her surly model face.
I used the
Kids Hat Pattern
from
You Sew Girl
. I've used the pattern before, with varying brim widths. It's a winner! It is lined with a pink gingham. Cute. Just like my sweet precious girl.
Sewing along with
Carmel @ Solomon Sewing
. Late again. I'm not sure that I'm cut out for this sew-along stuff. I am yet to finish my skirt from Cam's sew-along earlier in the year! One day… maybe?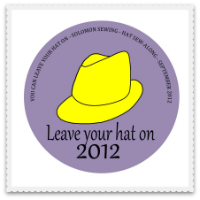 Check out other peeps hats
here
.